Cottage Bašković at Veliko Brdo near Makarska
If you're looking for a peaceful retreat where you can relax and fully enjoy all the splendors of untouched nature, this is the perfect location for you. The cottage is located at the foot of the mountain Biokovo (Biokovo Nature Park) and is surrounded by olive trees and pines. It is still close enough to the city of Makarska and nearby pebble beaches so that you can enjoy the city vibes and go for a swim.
Cottage Bašković provides all the amenities that you may need. It has around 55m2 and a one-car garage 25m2. It consist of a kitchen (equipped with a dishwasher, oven, microwave oven, coffee machine, toaster, kettle etc.) with dining room, living room, master bedroom with double bed, bathroom, pantry, covered terrace on south side of the house. Washing machine, vacuum cleaner, hairdryer, iron, towels, toilet paper, kitchen utensils and dishes are provided. In addition to Smart TV, air conditioning and free internet access, Cottage Bašković also offers its guests an electric fireplace, heaters in the rooms and air conditioning so that guests can stay here whole year. In front of the house is small garden, barbeque and garage with large (25m2) open terrace above where you can sit, relax and enjoy the view of Makarska and surrounding islands. The guests at the Cottage Bašković can park their car at our city location – Apartmani Bašković – when going to town.
Air footage of Cottage Bašković (2019) on YouTube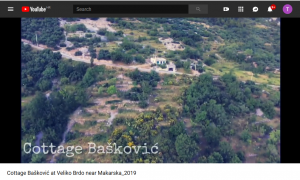 Address:                                         GPS data:
Put Žliba 22
HR- 21 300 Makarska
Hrvatska / Croatia
Latitude: 43°19'20.118" (43.32225491) North
Longitude 17° 1'2.327"(17.0173132) East
Elevation: 337 m
Or type "Cottage Bašković" on Google Maps or Google Earth
The Cottage is a perfect choice for a couple/two adults who enjoy walking, jogging, hiking, or simply want to relax from the city noise, enjoy nature and wake up to the chirping of birds. The house is less than 7 min (around 3 kilometers) from the closest beach.

Two good restaurants serving national cuisine are located nearby – restoran Veliko Brdo and restoran Panorama.